To get a taste of the snow, Vacation Quest member Megan H. and her family escaped Texas to the mountainous town of Red River, New Mexico, for tubing and snowmobiling. Though it was a little warmer than anticipated, Megan came away with plenty of good tips for this week's Member Monday!
Where would you recommend a fellow member to go to…
Eat:

Grill at the Lift House
Anchovies Pizzeria
Texas Reds Steakhouse and Saloon.
Shop:
All the souvenir shops were fun to check out. We bought our groceries from Der Markt.
Have fun/attractions:
It is a little town and you can walk to anywhere you want to go, but Miner's Transit will pick you up and take you anywhere in town for free, too!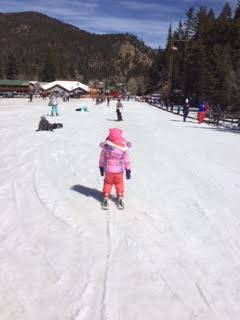 Recommendations include:
The Lift House for the Torch Parade was very fun.
Red River Ski Area for skiing and tubing and The Sled Shed for snowmobiling.
We also took a day trip to Taos, drove over the Rio Grande Gorge Bridge and shopped souvenirs by local artists near the bridge.
The kids enjoyed feeding the rainbow trout at the Red River Hatchery and the deer that would come out every evening and eat from their hands right along the Red River behind the condo.
What was your favorite…
Resort/Condo Amenity:
The condo (at Worldmark Red River) was a great size for the four of us. We were pleased with the accommodations. We especially liked the balcony overlooking the chair lift to the resort and river. The kids liked the hot tub!
Place to go in the destination:
The adults loved the snowmobiling. The kids preferred tubing and sledding.
Why did you choose this destination?
We wanted to take our kids on a road trip to spend some time in the snow. Since moving to Texas, we miss the snow!
Were you traveling for a special occasion?
Spring Break.
What was your favorite memory of your vacation?
It was action-packed. I can't pick one favorite memory! But I am happy knowing we will remember this trip and how much fun it was!
Any tips for a traveler going to this resort or destination? Anything you think they should bring?
We went for the snow and to go skiing in the second week of March. The weather was fantastic – sunny and upper 60s everyday.
However, because of the beautiful weather, it left much to be desired regarding the snow quality on the slopes. The snow had all but melted everywhere expect what remained on the slopes. Tubing, sledding and snowmobiling were great though.
Additional Comments:
We would love to go back in the summer to see what it is like during the warmer months and we definitely plan to go back for the snow someday. It is such a great little town with a very nostalgic feel. We loved it.
About you
How long have you been a Vacation Quest member?
Since 2014.
Why did you join the club?
We love to travel, but after we had our children the cost of traveling became very expensive! We wanted an economical way to be able to continue to travel and have vacations with our children. With the condos at Vacation Quest, we are able to do that and still have some money left to spend on adventures and building amazing memories.
How many trips have you taken using your membership?
Four.
Why do you think traveling is important?
We love to explore new places, as well as have a familiar getaway place to relax and re-energize. Traveling is always a learning experience and a great way to connect with your family and build lasting memories.
Photos courtesy of member Megan H.